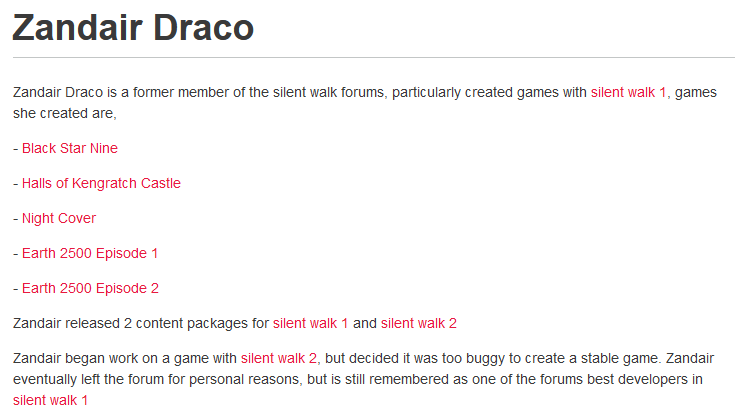 The first games I published on the internet in 2006 and 2007 were made with a program called Silent Walk, which was a simple authoring program for first-person shooter games created by a hobbyist from Hungary. It was quirky, but accessible, and I was an active member in its online community, which mostly consisted a few dozen boys in their early teenage years. I normally don't like to brag, but I was known for pushing the game's engine to its limits, using large open spaces, lengthy levels, set pieces, vertical geometry, custom assets, and so forth.
Under the alias "Zandair Draco" (gosh), I made five complete games during that time. Sci-fi shooter Earth 2500 was my first game, and it was, historically speaking, the first complete Silent Walk game to feature custom models and textures. You played as a soldier trying to escape from an alien invasion. Earth 2500: Stinger was the bigger and better sequel, and featured more fighting against aliens. Night Cover was about some sort of agent stopping terrorists from launching a nuke or something? It was famous for having stairs in it, a rarity in Silent Walk games. Halls of Kengratch Castle was an RPG-inspired fantasy FPS with nonlinear dungeons and magic. Black Star Nine was a short "horror" game about fighting zombies on a space ship.
Unfortunately, all of my games were hosted on the long-defunct Filefront, and they've since been lost forever. Thanks to XTCGames for the kind tribute on the Silent Walk Wiki, which, aside from some forum threads, is the only remaining evidence that these games ever existed.