I've showcased my games at festivals, exhibitions, and conventions in the Mid-Atlantic US, starting in 2017 as a member of Underground Arcade Collective, and in 2021 as an individual exhibitor. Events I've showcased at include Artscape, Comic Con for Kids, Cecil Con, and Colorspace Labs' First Friday Indie Arcade. If you want me to showcase my work at your event or exhibition space, drop me a line at alchiggins@gmail.com!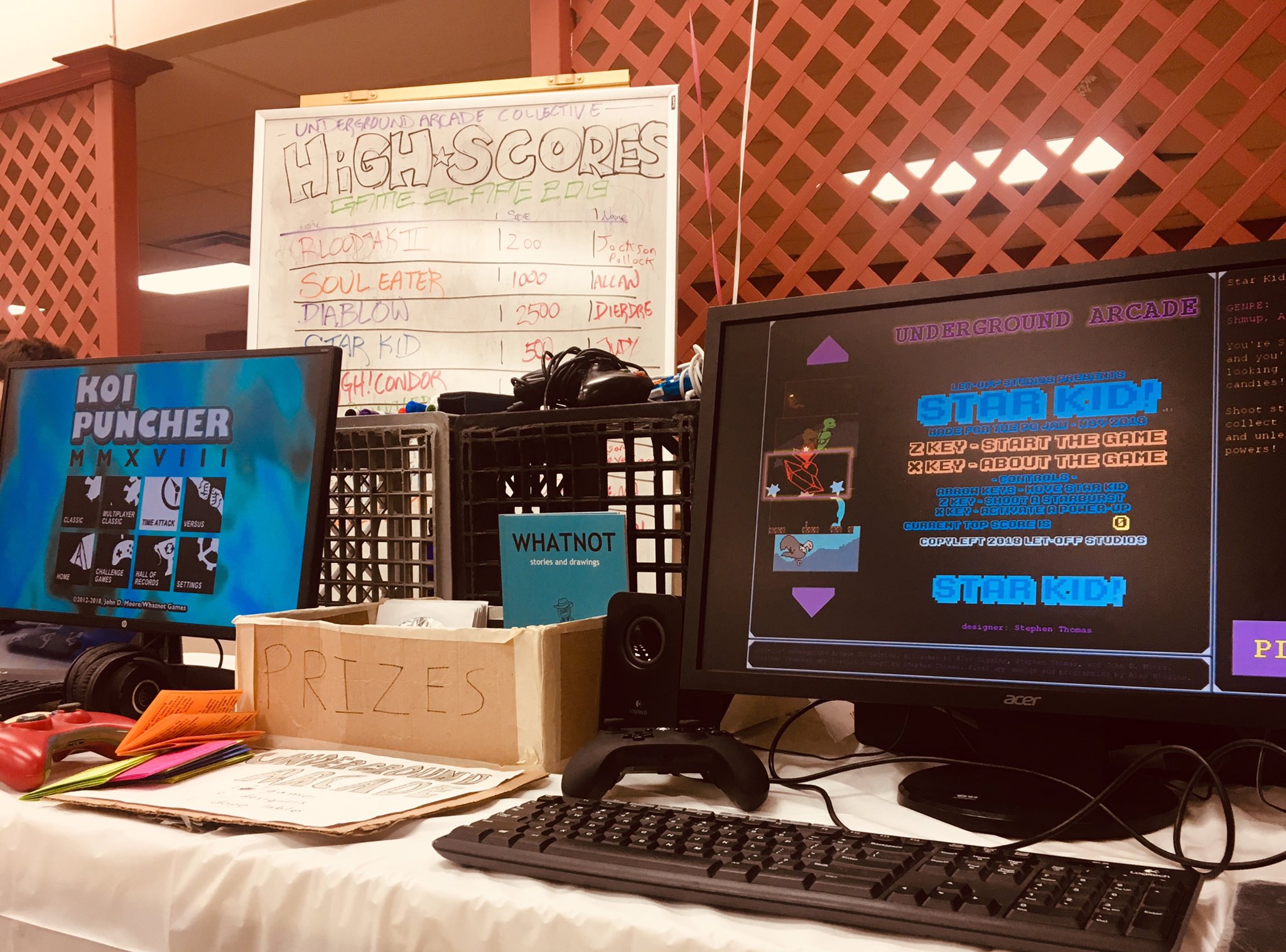 Underground Arcade collective is a small group of indie/hobbyist game developers consisting of myself, Stephen Thomas, and John D. Moore. We seek to promote our DIY attitude towards media creation, especially video games, by showcasing our collection of "garage games" and promoting free and accessible game making tools to everyone.
We collectively showcased our games from 2017-2019. At our peak, we would showcase 12 of our games at once! However, as a group, we have been inactive ever since the pandemic.
We wish to immortalize those who have proven their mettle. The top scores for all games at all events (starting July 2018) are as follows:
Game-making is for everyone! You might be surprised by how easy it is to make a game with some of these tools. Tools that use "visual programming" are those where you don't have to write code or learn a programming language to make the game - you program the game's logic by dragging boxes around and filling out fields and checking checkboxes and the like. While nobody should be afraid to learn to code (it's not that bad!), these are great tools if you don't want to, or you're not able to, or you're a younger kid. Tools that are "code optional" use either conventional written code or visual programming.
Genre-specific Tools
General Tools